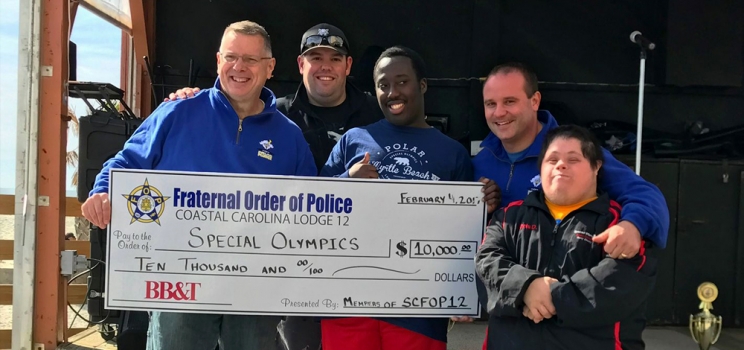 Our Lodge strives to reach out to those in need when we can – and each year we enjoy supporting and participating in events that benefit the Special Olympics Program in our area.
The SCFOP Lodge 12 is proud to help the Special Olympics of South Carolina each year!
The vision of Special Olympics South Carolina is to be the leader in lifelong and unified sports programs for individuals with intellectual disabilities, empowering athletes to be valued members of their community and respected members of society.
Special Olympics Athlete's Oath:
"Let me win; but if I cannot win, let me be brave in the attempt."
The program benefits many right here in our community and helps them to celebrate their sportsmanship, teamwork, and lets them know that law enforcement officers are here to kindly serve and protect them.
The Special Olympics Program is to benefit special needs children right here in our local community by allowing them to compete in the Horry County Special Olympics Spring Games held at Socastee High School and fund Horry County Special Olympics.
In return for your support and contribution, we would like to list your name and/or business name on our website with our deepest gratitude.
Thank you in advance for your continued support and contributions to our FOP Lodge and to Special Olympics Programs, as well as for the donations made to our General Fund.
Remember that all donations are tax deductible, too. Coastal Carolina Lodge 12 Fraternal Order of Police 501c8 Tax ID: 57-0781146
Our lodge is dedicated to not only working for the betterment of our members and our profession but also to benefit the communities in which we are sworn to protect and serve. We believe that local law enforcement needs the support of their communities and we strive to work in collaboration within our communities to improve the overall quality of life. Our members consist of both retired and active law enforcement officers living in Horry, Georgetown, and Marion counties.
Each year, your kind support goes to fund our various programs – and towards our general fund for other lodge activities such as: Cops and Kids, the Special Olympics, Waccamaw Youth Center, and our Annual Memorial Service for fallen officers.