The Coastal Carolina FOP Lodge 12 is an active Lodge of the Fraternal Order of Police based in Myrtle Beach, South Carolina. We serve the Northeast corner of South Carolina and our members include both retired and active law enforcement officers living in the counties of Horry, Georgetown, and Marion.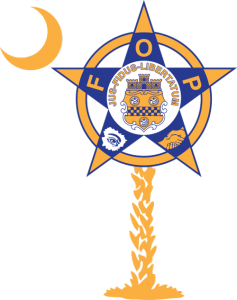 Membership is open to all certified law enforcement officers in our area, as well as selected associate memberships. Our monthly meetings are held on the fourth Thursday of each month.
Our lodge is dedicated to working for the betterment of our members and our profession. We also work to benefit the communities in which we are sworn to protect and serve. We believe that local law enforcement needs to support their respective communities – as well as strive to work in collaboration within each community – to improve the overall safety and quality of life for all its citizens.
Each year, the kind donations and support of each individual community member, business, or company goes towards funding our various charitable programs – as well as towards our general fund for other lodge activities such as: Cops and Kids, Supplies For Success, Children's Outreach Fund, Waccamaw Youth Center, and our Annual Memorial Service for fallen officers.
SCFOP Lodge 12 invites all area law enforcement officers to attend a meeting and consider joining us as an active FOP member. If you would like more information about Lodge 12 or the FOP in general, please don't hesitate to Contact Us.
Fraternal Order of Police
Mission Statement
We, the law enforcement officers of the United States and of the several states and political subdivisions thereof, as representatives and delegates of state and subordinate lodges, do hereby associate the several lodges we represent and the members thereof for the following purposes:
To support and defend the Constitution of the United States; to inculcate loyalty and allegiance to the United States of America; to promote and foster the enforcement of law and order; to improve the individual and collective proficiency of our members in the performance of their duties; to encourage fraternal, educational, charitable and social activities among law enforcement officers; to advocate and strive for uniform application of the civil service merit system for appointment and promotion; to support the improvement of the standard of living and working conditions of the law enforcement profession through every legal and ethical means available; to create and maintain tradition of esprit de corps insuring fidelity to duty under all conditions and circumstances; to cultivate a spirit of fraternalism and mutual helpfulness among our members and the people we serve; to increase the efficiency of the law enforcement profession and thus more firmly to establish the confidence of the public in the service dedicated to the protection of life and property.
Coastal Carolina Lodge 12 was chartered in 1984 by 12 Officers that had a vision to better the working environment for the area's law enforcement officers. In 32 years, that mission has not changed. Lodge 12 is currently at approximately 400 members strong and growing by the month. We are made up of Local, State, and Federal officers both active duty and retired, but we stand together for the same goal! Our Lodge consists of members from Georgetown, Horry, and Marion counties.
We are a small part of the largest, greatest law enforcement organization in the WORLD! The FOP strives to promote fraternalism and protect the working conditions of law enforcement officers. We offer many benefits to our members, included but not limited to accidental death and dismemberment insurance, legal defense coverage, scholarships, training opportunities, and a distressed officer's fund.
Lodge 12 plays an active part in the local and state political process, utilizing a comprehensive political endorsement. The State FOP Lodge employs two full time Lobbyists in Columbia, and also has strong legislative staff in Washington, DC, whose primary objectives are to vigorously promote legislation that will be beneficial to our profession and public safety as a whole.
The lodge is very active in the community, being involved with many local charities such as Horry County Special Olympics, FOP Cops and Kids, just to name a few.
In downtown Conway, next to the Horry County Government and Justice Center, you will find a beautiful memorial, that honors the brothers and sisters that have given the ultimate sacrifice while protecting and serving the citizens of Horry County. The Lodge holds a memorial service in May of every year to honor these officers.
You can also check us out on Coastal Carolina FOP Lodge 12's Facebook page, to see upcoming events. Please feel free to contact me or any of our Elected Officers with any questions.
KC Canterbury, President



Coastal Carolina Lodge 12
Fraternal Order of Police
Meet Our Elected Officers